Experience the life in Barceloneta in a unique place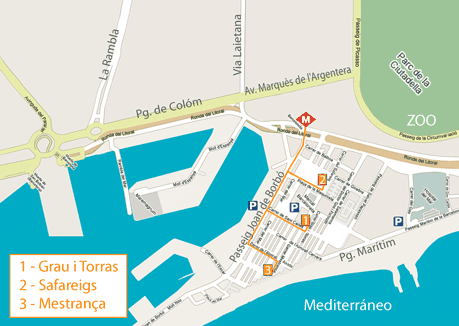 VIEW MAP
See the location in Google Maps
barcelonetasuites is located next to the beach in the former fisherman quarter of Barceloneta with its charming seafood restaurants, a short stroll away from the fashionable area of Born and the famous Ramblas.
Barceloneta
La Barceloneta (little Barcelona)is a former fishermen quarter dating back to 1753 full of exciting restaurants and bars. With its 5 kilometres of mediterranean beaches it certainly is the area that people from Barcelona come to for relaxing. The Olympic Port built in 1992 for the Olympic Games and next to the Barceloneta, houses the Arts Hotel, Casino and the splendid giant whale made of bronze by Gehry. On the beach of Barceloneta there is the sculpture LEstel Ferit (wounded star) by Rebecca Horn and has become one of its iconic landmarks. At the other end of the famous boardwalk of Barceloneta is located the W Hotel with its shape of a huge sail, designed by R. Bofill.
Quarts de casa
The apartments are totally renovated and preserve the charm and style of the quarts de casa (quarterhouses) which are architectural heritage of Barcelona. The quarts de casa -buildings originally designed to house one family per floor and were later divided into smaller apartments of 30 sqm. Today the majority of the 5631 apartments in the Barceloneta are quarts de casa.
Video Barceloneta Suites by WEXPLORE

Useful links:

Weatherforecast Barcelona



Tourism



about Barcelona



what to do (this week)
barcelonetasuites choice Restaurants
BAR JAI-CA. C. Ginebra, 13. Tel. 93 319.50.02
Tapas, excellent atmosphere and very popular.
SOMORROSTRO. C. Sant Carles, 11. Tel. 932 25 00 10
Modern cuisine in a nice atmosphere
LOstia Barceloneta;Pl. Barceloneta, 1. Tel. 932 21 47 58
Chic restaurant with nice terrace– popular restaurant with a local menu.
Restaurants en Pg Marítimo de la Barceloneta opening out onto the beach.
This is where the pretty people go to eat, dance and be seen.
Dress up trendy and enjoy the scene.
SHÔKO. Pg Marítimo de la Barceloneta, 36. Tel. 93 225.92.03
Restaurant and Lounge Club.
The restaurant is open during the week 19:00 to midnight before they open up into the club on Thursday through Sunday nights, midnight until 3:00.


www.shoko.biz
CDLC. Pg Marítimo, 32. Tel. 93 224.04.70
Restaurant and Lounge Club


www.cdlcbarcelona.com
AGUA
Mediterranean cuisine


www.aguadeltragaluz.com
BESTIAL
Minimalistic and modern ambience


www.bestialdeltragaluz.com